About Johnson Optometric Associates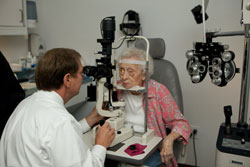 Caring for families since 1950, Johnson Optometric Associates, P.A. has been voted the best optometry practice in southeast Wake County. Specializing in adult, geriatric, and pediatric eye care. We also treat glaucoma and other eye diseases, offer emergency services, contact lens fitting and follow-up care.
Fuquay-Varina & Garner Eye Care Centers
Johnson Optometric has two convenient eye care centers, located in Fuquay-Varina and Garner, NC. Both locations use state-of-the-art technology that includes automated refractive testing, digital photography, laser imaging, screening and threshold visual field testing. We also offer ophthalmologic cataract surgical consults at both offices and the services of a retinal specialist at our Garner office.
Full Service Optical Shops
At our full-service optical shops, you will be helped by a licensed optician and a caring staff. We offer complete frame styling services as well as a selection of leading designer frames and the latest lens choices.
Schedule Your Appointment Today!
Whether you need a new pair of glasses, would like to speak to a doctor about your eye health or would just like a routine eye exam, Johnson Optometric Associates looks forward to providing you with expert vision care. Call us or use the form on the right to request your eye exam appointment today!
With locations in Fuquay-Varina and Garner, NC, our eye doctors and staff treat patients from across the Triangle, including Raleigh, Cary, Apex, Holly Springs, Knightdale, Clayton and Johnston County, Angier and Harnett County.