With Halloween around the corner you can almost hear the rustling of eager trick-or-treater's going door-to-door with their different costumes, eagerly anticipating sacks filled with goodies. But Halloween treats don't have to be only for kids. With our wide variety of designer eyeglass frames including Nine West, Calvin Klein, and Christian Dior, we invite you to treat yourself to a little "Eye Candy" this fall.
With so many frame styles and colors it can be tricky to choose which pair of frames are the perfect fit for you. Here are a few tips and "tricks" to keep in mind:
First, determine your facial shape.
Usually faces are made up of a variety of different curve and angles but there are six basic face shapes: Round, Oval, Square, Heart, Triangle, and Diamond.
Oval: The oval shaped face is usually longer than it is wide with a jaw that is narrower than the cheekbones. Walnut shaped frames look great on oval shaped faces and help maintain the face's natural balance!
Round: Characterized by a wide hairline with fullness below the cheekbones. Rectangular frames with a clear bridge can help widen the eyes and thin the face!
Heart: Cheekbone is usually slightly wider than the hairline, which then drops to a pointed chin. Rimless round and oval frames help to minimize the heart shape's width!
Square: Usually characterized by a wide hairline and jawline. Narrow oval shaped frames with curved lines can also help soften and reduce angles of the square face!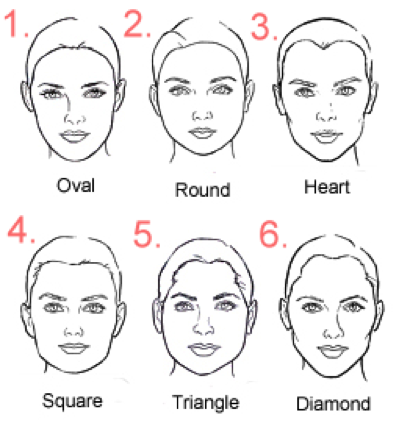 Triangle: Characterized by a narrow forehead that widens at the cheekbones and chin. Cat eye frames, or frames with a lot of detailing and color can help add width and emphasize the narrow part of the face.
Diamond: Narrow at the eye and jawline but broad at the cheekbones. Oval or softly curved square frames can help to soften the contours of a diamond face!
Once you've determined your face shape and complimentary frame you can now move on to skin tone. Determining skin tone can help you decide which color frame will look best on you!
All people either have a cool (blue based) or a warm (yellow based) skin tone. It's always best to compliment your personal coloring by picking a frame that's in your color base.
Cool based skin has a lot of blue and pink undertones. People with cooler skin tones look great in frames that are black, silver, blue, gray, plum and magenta.
Warm based skin has a lot of peach and yellow undertones. People with warmer skin tones look great in frames that are gold, copper, brown, orange, off white and khaki.
By keeping these easy tricks in mind you'll be looking great this fall in your new pair of eyeglasses that compliments you and your features. Visit Johnson Optometric Associates in Fuquay-Varina or Garner today and let us help you pick out some "Eye Candy".