What is a Macular Hole?
A macular hole consists of a small, round defect in the central macula. Macular holes usually occur in middle-aged people and are more common in women. The top layer of the retina is called the inner limiting membrane, and it is connected to the vitreous humor (which is a gel that fills the eye). In macular holes, the vitreous will exert traction on the inner limiting membrane, and create a hole in the retinal tissue. The treatment depends on the vision and the extent of the macular hole (i.e., how much tissue has come loose), and can include close observation and/or surgery.
Case Study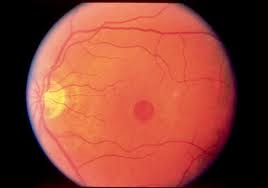 Earlier in the year, I had a 55-year-old female come to my office seemingly suffering from decreased vision in her right eye.  For approximately two weeks she noticed her vision becoming very "wavy" and "distorted". She also noted that colors had become "dull" in that eye. I measured her vision and found that she had 20/60 in her right eye while maintaining clear, 20/20 vision in her left eye. After dilating her eyes, I could tell that she had developed a full-thickness macular hole in her right eye. I immediately performed an OCT (Optical Coherence Tomography) test on that eye and confirmed the diagnosis. I referred her to a retinal specialist for surgery. The surgeon evaluated her the same day, and four days later he did a pars plana victrectomy (PPV) and inner limiting membrane (ILM) peel. He also put a gas bubble in the retina to help the tissue close and heal.
Following surgery, the patient was instructed to remain in a head-down position for 1 week. The patient followed doctor's orders and the post-operative result was excellent. The macula in her right eye was normal again. Common after retinal surgery, however, she developed a cataract about 2-3 months later. So I referred her for cataract surgery.  Again, the surgery went very well: the cataract was removed and replaced with a silicone implant. At her last post-operative visit, she displayed 20/20 vision in both eyes and was very happy! The combination of technology and excellent surgeons made possible the diagnosis and reparation of these serious eye conditions!
Make an appointment with your local Johnson Optometric Associates eye doctor for your regular comprehensive eye exam. Don't wait until it's too late.
Andrew May, OD
Johnson Optometric Associates
Fuquay-Varina, NC | Garner, NC