As technology advances, so does the quality of care we can provide to our patients. Better care, means eye diseases and health threats are more likely to be mitigated with early detection. One new technology in particular, the high resolution SD-OCT, is helping to enhance and improve the understanding of retinal disease and glaucoma.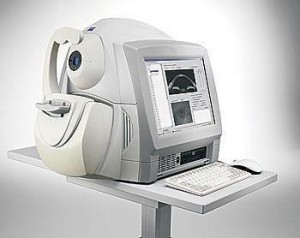 Optical coherence tomography (OCT) is a non-invasive imaging technique similar to ultrasound with the exception of using a super-luminescent light source, instead of sound.
The doctors in of Johnson Optometric Associates are fortunate to utilize a second generation OCT scanner which employs spectral domain (SD) principles for image capture. We can evaluate retinal and optic nerve pathology in office based on cross sectional images. This is similar to how pathologists assess a specimen slide of human tissue or radiologists interpret an MRI. This technology allows us to make a diagnosis on the spot and if necessary make immediate recommendations for treatment.
Come in today for a retinal image scan by making an appointment online at either our Garner office or Fuquay-Varina office. We look forward to seeing you and providing you with the best optical care possible.
Rick L. Hartman OD, FAAO
Johnson Optometric Associates