Fuquay-Varina & Garner, Family Eye Care Centers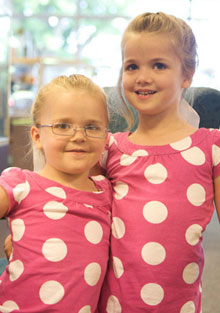 At Johnson Optometric Associates, our eye doctors provide routine care for all ages. For your convenience, we will see multiple family members on the same day, making appointment scheduling easier for spouses and parents.
Eye Care for Every Age
Regardless of age, annual eye exams are an important part of eye care. With children, our doctors look for undiagnosed hyperopia (farsightedness), a common cause of eyestrain and headaches. Into a patient's adulthood, we continue to monitor eye health and refractive changes. Presbyopia is a universal condition that usually starts in the early to mid-40s and causes difficulty with reading; for these patients we recommend the best options for glasses and contact lenses.
As patients age into their 60s and 70s, many age-related conditions begin, so we watch for diseases such as Glaucoma and Age-Related Macular Degeneration closely. We continue to monitor the eye health of patients and their families even into the 100s. We also participate in the InfantSee program, which provides a free eye exam to children under the age of one.
Schedule Your Family Eye Care Appointment Today!
Johnson Optometric has been providing eye care to Triangle families since 1950. Today, we continue to offer convenient family scheduling and skilled vision care to patients of all ages. Request your eye exam appointment today!
With locations in Fuquay-Varina and Garner, NC, our eye doctors and staff treat patients from across the Triangle, including Raleigh, Cary, Apex, Holly Springs, Knightdale, Clayton and Johnston County, Angier and Harnett County.