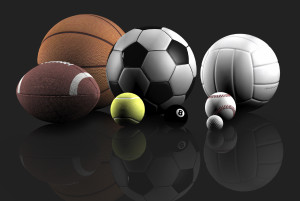 Did you know that in the United States, every 13 minutes someone visits an ER for treatment due to a sports-related eye injury? It's true. Prevent Blindness America (PBA) reports that basketball is actually the number one sport for eye related injuries. Approximately 6,000 Americans suffer from a basketball related eye injury each year, many of which fall into the 15 -24 age group. Something else that might surprise you, water and pool sports such as diving, swimming and water skiing collectively make up the second leading cause of sports related eye injuries and guns (air, gas, spring & BB) take third place. The following are a couple more sports related eye injuries facts that you may not be aware of:
Most eye injuries among kids aged 11 to 14 occur while playing sports.
Baseball /softball is a leading cause of eye injuries in children 14 and under.
Protective eyewear may prevent 90 percent of sports-related eye injuries.
Here's a list of the sports with the highest reported sports injuries: 
Basketball
Water & Pool activities
Guns / Shooting
Baseball/Softball
Weight lifting / health club exercise
Ice Hockey
Racquet Sports
Fencing
Lacrosse
Paintball
Boxing
Healthcare providers, including your local eye doctors, play a critical role in their patient's use of protective eyewear. It's highly recommended that all kids and teens wear protective eyewear while playing sports, especially if prescription eyewear is required. Ordinary prescription glasses do not provide adequate protection for your child. Eyewear worn during athletic activity should be sport-specific and must sit comfortably on the face.
If you or your child experience any type of eye injury due to sports or otherwise, contact your Johnson Optometric Associates eye doctor. And if you haven't already, go ahead and make an appointment for your annual comprehensive eye exam.